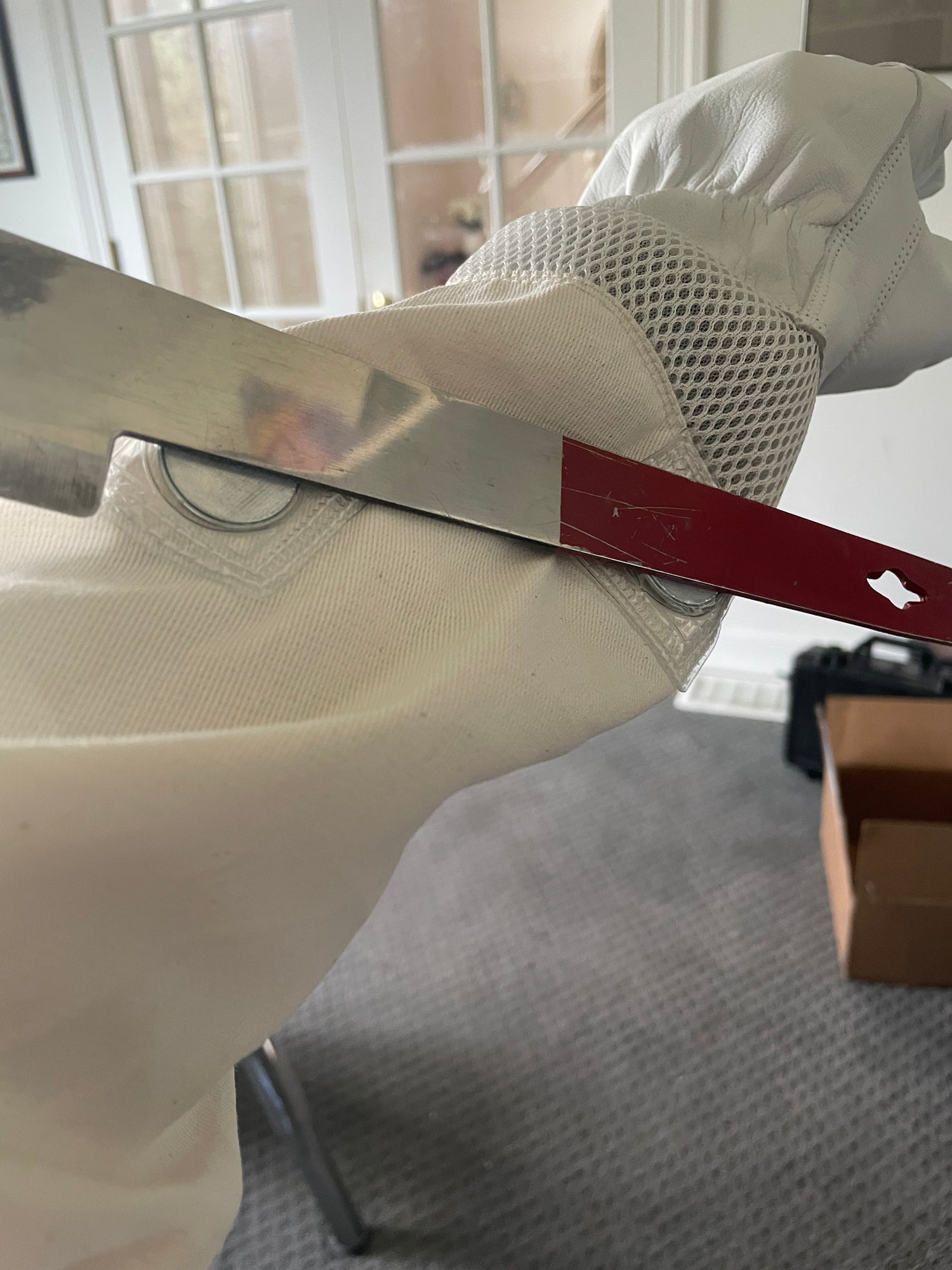 WHY A TOOL GLOVE?
How many times have you dropped your hive tool, or you placed it on top of the hive and it fell in or you just couldn't remember where you put it down?
One of the few things more frustrating is when you spot the queen and want to catch her; but in the few seconds you take your eyes off her to get your queen catcher clip... She is gone!
The beekeeper's tool gloves are a high grade, goatskin vented, sting protecting beekeepers glove set. It features sewn on powerful neodymium magnets strategically placed on the right and left gloves.
The magnets are placed to be in line with the comfortable placement of the typical bee hive tool from right hand to left glove or left hand to right glove. The opposite glove is a great place to hold your metal queen catcher cage. You may even elect to keep the queen there while you continue to work the hive to keep her safe. When you want the tool again, just reach over and remove it from the magnets. Simple and efficient.
The gloves feature a vented canvas gauntlet designed to fit over a beekeepers suit and covers the arms all the way to the elbow comfortably. The glove portion is made of high grade goatskin, has an articulating thumb and an elastic back for a fitted fit.
At the base of the palm there is leather patch to extend the life of the gloves as a reinforced wear point.
Having magnets on both gloves also can be used to keep the glove pair together. Never again having to look for a missing glove!
The beekeeper's tool glove will protect the beekeeper while adding a more efficient way to work.
Sizes available xs, s, m, l, xl and xxl
U.S
Patent pending
BEEKEEPING GLOVES WITH MAGNETS TO HOLD YOUR HIVE TOOLS!
INNOVATIVE DESIGN
• SEWN-IN NEODYMIUM MAGNETS
• HIGH-GRADE GOATSKIN LEATHER GLOVES
• 2 INCH VENT
• ARTICULATING
• THUMBELASTIC BACK FOR A FITTED FEEL
• REINFORCED LEATHER WRIST PATCH
• EXTRA WIDE CANVAS GAUNTLET
• PATENT PENDING
IMPROVING THE EXPERIENCE
• MAGNETS KEEP YOUR HIVE TOOL EASILY ACCESSIBLE
• NO MORE STRUGGLING TO FIND YOUR HIVE TOOL
• NO MORE DROPPING YOUR TOOL INTO THE HIVE
• KEEP YOUR METAL QUEEN CATCHER AVAILABLE FOR FAST ACCESS
• ACCOMMODATE BOTH RIGHT AND LEFT HANDED BEEKEEPERS
 PATENT PENDING